---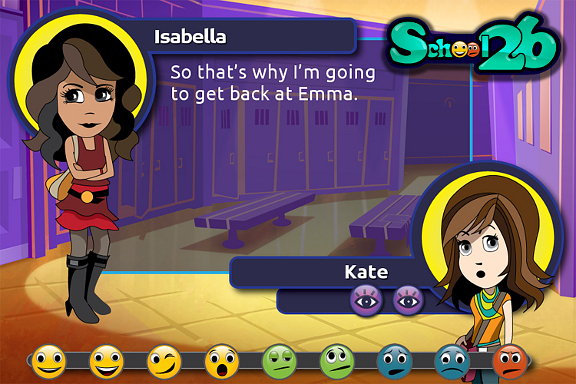 26 School
Rating: NR - Not Rated

Definitely not a game for adults. Preteens and early teens who are struggling or are going to struggle with these social elements would be most interested in this.  The story is about a female high school student who has had to move 25 times, making this high school the 26th. Her parents are 'sensitive' and anxious to find the best energy match for their daughter. This added piece allows the introduction to games involving "Tarot" cards (although the deck games are really just number games).
As the player is introduced to the other students, she is confronted with a regular run of stereotypes; the jock, the love triangle, the princess snob, the abrasive, the shy, the pleaser and so forth. At first the interactions are superfluous as the 'new kid' is navigating each situation. The format is simple, with cartoon treatment, no voice work and no game saving features; the story simply picks up where you closed it. As the story line continues, the problems presented become more complex, as a relationship would when it continues to develop. The game shows both current and classic problems, letting the player react, then seeing feed back on how well their response is received. The player is rewarded for better gauging or understanding the other students during their various struggles, without it being preachy or boring. The games are relatively easy, with additional quizzes which are really about having the players understand themselves and how to read others. It could be called an equivalent to test driving relationship issues.
For what it is meant to do, the game is structured fairly well. Some things are irksome and unnecessary but that wouldn't get in the way for a young audience. It's rather silly to state that the main character has changed high schools 25 times. Adding 'sensitive' parents to give the card games a little flare, seemed unnecessary. Some parents who are adverse to having characters talk about substance abuse, gay issues or sex, may be troubled by the game. Personally I found those issues not only current ones, which will be faced in real life school situations, but treated here rather well. The game faces the subject matter softly, in conversations without overt drama or graphic details. If I had played this in my early teens, I think it would have given some added perspective to the upcoming situations, that I did not have. I think the game was done well and I believe girls would have fun 'test driving' some stereotypes.
Upon its release, School 26 will cost $2.99 for iPhone / iPod Touch and $4.99 for iPad (HD version). To learn more about the game and view the trailer and screenshots, visit the official School 26 website at http://www.school26.ca.

Fun Factor: A good job
Female Factor: Interesting mix
Player Friendly: No problems
Reviewed by: Adison Garzon - Mar/12
26 School
&copy Silicon Sisters Interactive
Platform(s): XP Vista Windows7 Android iPhone iPad
Game Site: http://www.school26.ca./