---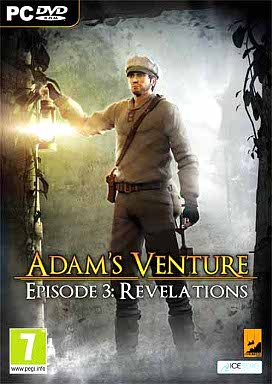 Adam's Ventures Episode 3: Revelations
Rating: E-10+ - Everyone 10+

Revelations is the final game in the Adam Venture series and the only one that I played. The game recaps the two previous games through puzzles. The way the third game is constructed there is a brief story telling and very little chance to wander about. The story is similar to those involving archaeologists, tombs, biblical hints and Christian artifacts.
The trope used to a recap the story is Adam's unconscious, somewhat confusing flashbacks including his first meeting with Evelyn. The antagonist, an arms merchant who wishes to boost his business by destroy Solomon's temple, which in turn will destroy all religions. Interesting concept - now that would be a story! Voices are well matched to the characters and clever dialog takes place between A & E. I was pleased with the investment in music for what is basically a modest game. The graphics are good with interesting locations; however in some areas the game is so dark that finding hot spots takes too much of the game time. While there were confrontations, there ware no bloody graphics.
Adam and Evelyn expose the game's Christian underlayment. I was expecting more overt religiosity, but aside from artifacts and biblical locations and clues it's no more religious that the Indiana Jones movies.
You might want to visit the iceberg-interactive site. They have a wide variety of unusual games that are a couple of years old and hard to get. One of my favorites, Syberia Collection, has a female lawyer who must interact with an automaton to complete her mission, was created by Benoit Sokal, one of most creative story tellers; a couple of unsettling psychological thrillers, Dark Tales: Lights Out, Darkness Within: In Pursuit of Loath Nolder, and a bunch of fun simulators, Ship Simulator being one that provides some insights on how cargo ships navigate.

Fun Factor: Good story
Female Factor: Evelyn gives as good as she gets
Player Friendly: Too dark in some scenes.
Reviewed by: Editor - Apr/12
Adam's Ventures Episode 3: Revelations
&copy Iceberg-Interactive
Platform(s): W7 Vista XP