---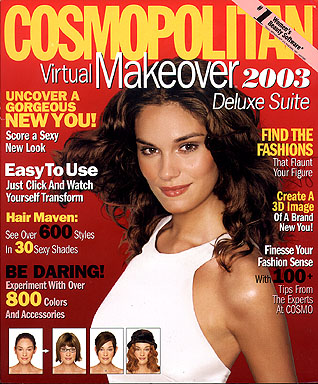 Cosmopolitan Virtual Makeover Deluxe 2003
Ages: 12 and up

This product has improved a lot since I last reviewed it (1998). It is now made up of two programs. One for the head – one for the bod, and they can be used independently. It takes up less disk space than the older versions, has more useable hair styles, better adjustments and shows you stuff in 3D. Cosmopolitan Virtual Makeover handles makeup, hair styles, and accessories – and requires 100 MB of disk space. Cosmopolitan Fashion Makeover allows you to create your own figure, try on clothes and … order them from Macy's. It requires 150 MB of disk space. Boy, imagine never having to leave the computer.
The controls for the makeup gives you express directions to outline your facial features - eyes, eyebrows, cheeks and lips so the makeup you select will be applied automatically when you pick a color. You can then use your mouse to make changes and adjustment. It's worth it to do the outlining accurately because, believe me, the mouse is not the way to put on makeup.
If you don't feel like doing the measurements for your own bod, you can pick from one of four body types. Cosmo deserves kudos for not including a Barbie amongst the choices. In fact, jeans for a couple of the models would be in the "relaxed" category. The product has grown up from a mere amusement to one where you can realistically try out various styles and clothing. You can then rotate the images so you can see what the hairstyle or outfit looks like.
The 2002 and the 2003 are almost the same. The 2002 edition has a larger selection of eyeglass frames while the 2003 has more hair styles. Both have jewelry, hats and bridal veils. I just realized that I should absolutely avoid cloche style hats.
Because the program is so good at what it does, it pays for you to take the time to input your data, and that means – follow the suggestions when scanning a picture of yourself, make the adjustments so your features line up, and put in your measurements. Then play.
Editor review 11/02
Cosmopolitan Virtual Makeover Deluxe 2003
&copy Broderbund $39.99
Windows 95/98/2000/Me
To Order: http://www.amazon.com