---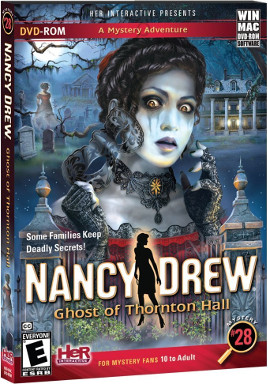 Ghost of Thornton Hall
Rating: E-10+ - Everyone 10+

Ghosts don't usually appear in Nancy Drew titles – yes, creatures, hauntings and curses and ghosts may be implied – but here "ghost" is implicitly stated. I always see Nancy as a smart, rational person and count on her to bring her analytical mind to explore these ghostly happenings. So while it is not too scary, it still is a dark and somber tale.
Nancy is asked to investigate the disappearance of Jessalyn Thornton who vanished on a pre-nuptial scavenger hunt exploring scary haunts and summoning ghost tales with her cousin Addison. It's a little like telling ghost stories by a campfire when things are too quiet.
Marital jitters don't seem to capture anyone's attention – instead they dwell on abduction, maybe death, maybe involvement by the ghost of Charlotte. No one seems particularly concerned – her fiance Colton has no useful suggestions, her mother, Clara, both in dialog and body language seems to be preoccupied elsewhere. Wade, her cousin, who has spent time in prison is the most helpful. It is this melange that Nancy has to work with – more relatives are added later.
She does a commendable job – searching out hidden passageways, trudging through cemeteries and crypts and putting pieces together to solve puzzles. There is a good assortment of Nancy Drew type puzzles – sliders, tangrams and mechanical constructs. She puts up with more than she should – I would have bashed open the locked door – and she has to read all the epitaphs on the tombstones at night and avoid getting killed. But then she does get to open secret boxes, and to spy from portrait eye holes – something she hasn't done since "Message in a Haunted Mansion".
The game feels like a cross between the "Emma" and "Rebecca" novels - locked room, singing at night, a vengeful ghost walking about. Spoiler – you do get to see a ghost. As usual, there are always things you learn in a Nancy Drew game – here it is about the cotton industry and cotton gins and how to charge a cell phone using fruit.

Fun Factor: It's a bit to dark and somber to be "fun"
Female Factor: Nancy as always comes through
Player Friendly: No prolems
Reviewed by: Editor - May/13
Ghost of Thornton Hall
&copy Her Interactive.com
Platform(s): W7 Vista OSX
To Order: Download http://www.herinteractive.com/ $19.99
To Order: Win/MAC http://www.amazon.com/ $18.02
To Order: Download http://www.amazon.com/ $19.99