---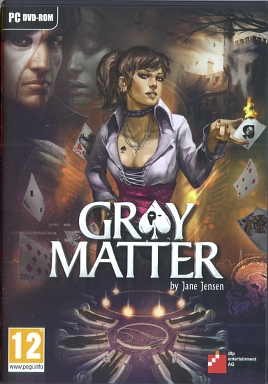 Gray Matter
Rating: T - Teen

I have waited for this game after Gabriel Knight made me a fan of Jane Jensen. Since 2003 the game has traveled across the EU, involved many producers, released first in Europe and finally to the US late in 2011.
Jensen cleverly imbues the story with macabre elements: Dread Hill House, that shelters The Centre for Cognitive Abnormalities Research, a Magic shop with a devil-like owner, referring to the experimental subjects as The Lambs and everyone knows the fate of lambs, a dead wife plus ghost and best of all, Dr. Styles who looks like the Phantom of the Opera. The eerie music supports this theme. The plot is set in the town and university in Oxford but always with the sense that something evil will pounce out of the shadows. Action moves between Sam's magic endeavor and Dr. Styles search to reconnect with his dead wife.
The characters add drama to the story: Samantha Everett (Sam), a young magician who aspires to join the prestigious Deadalus club in Oxford and who opportunistically becomes Dr. Styles assistant for room, board and change; the good doctor himself, an eminent neurophysiologist who sounds a bit like Mr. Rochester from Jane Eyre; the subjects, Angela and Charles, wispy, while Helena and Harvey are abrasive and less likeable.
Having been a teen magician and winning praise from The International Brotherhood of Magicians for a particularly clever illusion I looked forward to doing the magic tricks. The tricks were accurate but I was anxious to get back to the story. I found that the story moved quicker when I was playing Dr. David Styles.
Magic tricks are prompted by Sam suggesting that "magic would work here". Next you consult her magic book to select the appropriate trick. If you don't have all the objects necessary – you must foray out to get them – the magic shop is a good choice to start. After selecting the trick – an image of Sam appears upon which you perform the steps – palm object into her left hand, misdirect, etc. If you are correct, Sam will automatically do the trick – often with her back towards you. As you can imagine – this could be tedious. At first I missed the circle spots for affecting the action – they were not clearly shown, so until I got the hang of it, I would put items into her hand instead of up her sleeve.
The Deadalus Club puzzles are well constructed with each piece of the puzzle providing clues to the next search. Help is provided by the journal which shows dialog progress; a map which indicates if all clues in the area has been exhausted, and tapping the spacebar will show all the hotspots.
It was long and enjoyable – I can only hope for more from Jane Jensen.

Fun Factor: Unusual story
Female Factor: Sam is a strong female character.
Player Friendly: Look for the circles in the trick process.
Reviewed by: Editor - Mar/12
Gray Matter
Author: Jane Jensen
&copy Viva Media
Platform(s): W7 Vista
To Order: WinWin http://www.amazon.com/ $11.99