---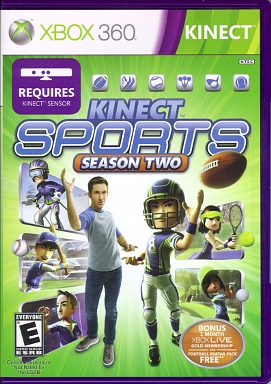 Kinect Sports Season Two
Rating: E - Everyone

Kinect is full body involvement – no sitting on the couch just moving your arms. Microsoft's Kinect Sport Season Two fills out some of the action missing from Numero Uno. This season's offerings contain:
Golf – a turn-taking stroke play – up to four on the course. You can hone you skills by practicing on a single hole.
Darts – no Irish pub but still a comradely challenge. You bring the beer.
Baseball – for two players, but you get a chance to pitch, catch and bat for your team. Bring along a cheering section.
Skiing – not the first of its kind but nice to have it included. Don't try to beat the kids – they always win.
Tennis – A great improvement over just waving a remote.
Football - So it's not NFL. Think of it as football-casual. Not bad.
There are three difficulty levels and a delayed play option just in case your opponent is working while you are playing.
If this doesn't satisfy your sports craving - you might add the earlier version, Kinect Sports . It featured soccer, beach volleyball, bowling, table tennis, track and field and boxing.

Fun Factor: Full body motion makes it feel all the more real.
Female Factor: A good mix of the sexes - and you can use you own avatar.
Reviewed by: Editor - Dec/11
Kinect Sports Season Two
&copy Microsoft
Platform(s): X-BOX 360
To Order: XBox360 http://www.amazon.com/ $34.95