---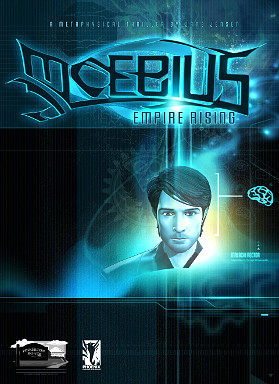 Moebius: Empire Rising
Rating: N/A - Rating Not Applicable

If you run your fingers around a moebius strip – you will find that what was inside is now outside and what was outside is now inside. I think this is an appropriate title for a paranormal story where the past can become the present.
This game is an example of Kickstarter's success and the admiration that the gaming community has for the talents of Jane Jensen. Back in 2012 the Kickstarter goal was more than matched in one month. And now we have Moebius – a game that was directed, written and designed by Jane Jensen.
The game starts out with a comic giving the backstory of Malachi – a kid with an IQ of 175 who loses his mother to a lion atttack – probably as a punishment for her infidelity - it is an attempt to give some understanding of why the main character is who he is. The characters are important and much work has gone into their development – physical appearance, body motion, attitudes, dialog, speech. Malachi Rector, the main character is arrogant, standoffish, elegant with a light British accent and can always be counted on for clever contemptuous remarks. Our boy has eidetic memory – an ability to recall images, sounds or objects in memory with great precision. An invaluable talent for this wealthy appraiser of antiques. Besides hefty fees, his profession also brings travel to exotic places, and often, danger. The only other possible alternative profession would have been a world-class architect. David Walker is the flip side of the coin, muscular, soldier of fortune, easy going with a decorated military service in his past. Other characters that come into play repeatedly are also well constructed with appropriate traits.
An unusual request comes from a secret governmental organization, the Future Intelligence Technology Agency, to search out the similarity of a murdered woman to a historical character. Strange and interesting enough for Malachi to take the case.
From his New York digs, Malachi will go all the exotic places – Venice, Cairo, Paris, Zurich, Quatar. All are well and richly detailed, nice touches such as dawn lighting the sky as Malachi searches through Cairo and the creative ways the graphic images are handled. It is in Cairo that Malachi meets up with David Walker and it is a hilarious episode that sets the tone for their coming relationship.
Yes – and onto the game – the game is point and click – puzzles are centered around using Malachi's prodigious source of knowledge – and it is used in the analysis of antiques, and often of the people he encounters. I was interested to know if the objects that are appraised; canopic chest, rifle, chessman are actually real – they are and it is an example of the standards Jane has set for herself. There is a running internal dialog that goes through Malachi's head as he walks through different settings, funny and often sarcastic and reminiscent of the recent Sherlock.
The character development and the growth of the relationship of these two very opposite characters speak to the strong possibility of continuing episodes. The depth of the game has too much not to build on it for future adventures.

Fun Factor: Enjoyed the character
Female Factor: With Malachi's background he does not let women into his life and they will just be part of the story.
Player Friendly: Easy saves.
Reviewed by: Editor - Apr/12
Moebius: Empire Rising
&copy Pinkerton Road Studio
Platform(s): W7 Vista XP OSX
To Order: Download http://store.postudios.com/ $29.99
To Order: Download http://www.amazon.com/ $29.99