---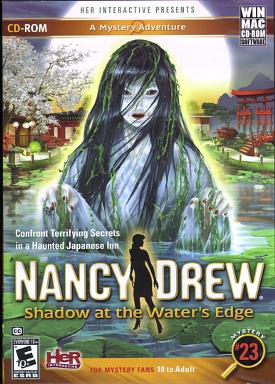 Nancy Drew: Shadow at the Water's Edge
Rating: E-10+ - Everyone 10+

This is probably one of the best Nancy Drew mysteries - and I have reviewed them all. It takes you off to Japan for a foreign adventure - not unlike The Phantom of Venice where, besides solving the mystery - you enjoy the ambience of a foreign land. But this is so much more. The game submerges you into Japanese culture at every turn, from the attitudes of the characters, the crafts, the ambience of the city, mythology, the famed subway system, a pachinko parlor, food and a stay at a ryokan offering heated pools, beautiful gardens and even her futon turned down in the evening. The plot has Nancy in Japan as an English tutor and staying at a ryokan, a traditional Japanese inn, which has a ghost problem - denied by the staff. The game is chock full of puzzles, many more complex and difficult than the usual Nancy Drew. However, all involve Japanese culture and in solving them you are also learning. Most can be done at your leisure but a few will not let you proceed until solved. The animation is decidedly more realistic, and the voice acting is spot on. The game has more of an adult feel about it and I hope this new direction is maintained. Having stayed at a ryokan I can vouch for the authenticity of the environments - except that Nancy forgets to remove her shoes when entering the ryokan.

Fun Factor: Engaging - lots to do, see and solve.
Female Factor: 'Ray for Nancy
Player Friendly: A real manual would help the player - even a walktrhough would be nice.
Reviewed by: Editor - Oct/10
Nancy Drew: Shadow at the Water's Edge
&copy Her Interactive
Platform(s): W7 Vista XP OSX
To Order: Win http://www.amazon.com/ $19.82
To Order: Mac http://www.amazon.com/ $19.82