---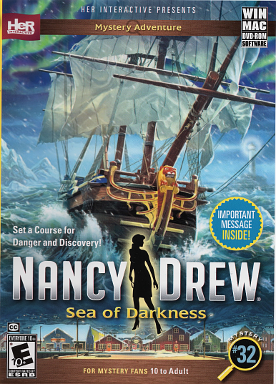 Nancy Drew: Sea of Darkness
Rating: E-10+ - Everyone 10+

It was six years ago - 2009 when Nancy first engaged in a seagoing mystery - The Mystery of the Seven Ships, #20. Since then the people have become more alive - they are more interesting and are involved with one another's lives. You end up caring for them and don't want any of them to be found guilty.
Sea of Darkness involves a missing captain and takes place in Skipbrot, Iceland, a perpetually dark and cold place, illumined only by some twinkling holiday lights and an occasional display of northern lights. But while the outdoors is bleak and bare the interiors are beautifully done - the Captain's quarters, lush and rampant with color; the lighthouse with the interior revolving beam reminds me of the Point Bonita light before it went mechanical - quietly haunting.
There are many things that will strike the player in this game - how unpronounceable the Icelandic language is and the number of puzzles to solve. There are over 40 - word and Sodoku types, pattern matching, arranging items in a grid, one involving music, learning the lore of sails and knots and yes, the proverbial wiring diagram. In some cases a puzzle leads into another puzzle and yet another puzzle without a break. I get itchy to get back to the story so I prefer a more balanced mix of story to puzzles.
I realize that in the game, Nancy is the cursor. It is the characters around her that bring in the human pathos - love, hate, jealousy; and this time they are rendered very well with excellent twitches and pregnant comments and a sense of humor. The Nancy Drew games are one of the few that bridge the generation gap - mothers and daughters, even grandmothers can play together – complex enough to keep the adult involved and with the sensibilities that relate to a young girl interest.

Fun Factor: I never thought I would say this. Too many puzzles.
Female Factor: Dagney the treasure hunter is spunky, Elisabet - interesting.
Player Friendly: Yes friendly
Reviewed by: Editor - Jun/15
Nancy Drew: Sea of Darkness
&copy Her Interactive
Platform(s): W7 Vista XP OSX
Game Site: http://herinteractive.com/