---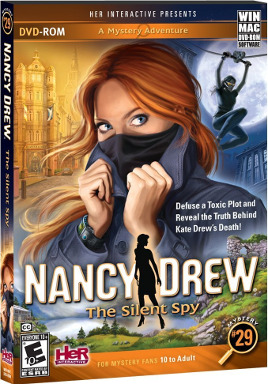 The Silent Spy
Rating: E - Everyone

It's nice to know that in spite of snow, rain, tornado, global warming – we can still count on a Nancy Drew game. This one is a little more unique in that we get some insight into Nancy's mother and and Nancy herself. It's a great fleshing out of the character – don't know why it took so long.
Without giving away too much of the story – Nancy has been asked for help from MI-5, to help solve the death of her mother in a mysterious auto crash. Is she interested – you bet she is, and over the wishes of her father.
Next we find Nancy in Scotland – and already you know there will be bagpipes, family plaids to construct and weird sounding foods. The navigation hub is the Wyvernn Gate Station, from which you will take trains to different parts of Scotland in pursuing your mission. You need train fare and the coins you collect in various places are your tender. If you run out of money – you can work in the Deli to make filled/decorated cookies. Lots of fun for Nancy's players but bit a little inappropriate for a MI-5 spy.
A couple of characters keep on popping up throughout, leaving you with questioning whether they are on your side or not and who to trust. The game gets into deep spy stuff – safe houses, zip-lining between buildings and yes, timed puzzles that will give you a work out. All much fun and you will learn a lot more about Nancy and her family.
Graphics are better, brighter, fewer dark corridors, and the puzzles, though not easier are more colorful. Next. What about Nancy's father?

Fun Factor: A good dip into spy-land
Female Factor: An 007 Nancy without a license to kill
Player Friendly: No glitches
Reviewed by: Editor - Oct/13
The Silent Spy
&copy Her Interactive.com
Platform(s): W7 Vista OSX
To Order: Download http://www.herinteractive.com/ $19.99
To Order: Win/MAC http://www.amazon.com/ $19.99
To Order: Download http://www.amazon.com/ $19.99