---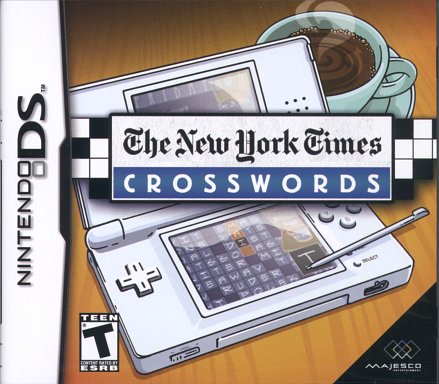 The New York Times Crosswords
Ages: Teen

Majesco and Budcat, thank you so much for this game. It's a gift for those who don't buy the Times – they don't have to beg or to steal it from their friend's paper. It's a win for those who do buy the Times but having one puzzle a day isn't enough. And it's RIGHT! The DS is PERFECT for it. All the action is on the touchscreen. You can choose to use a keyboard, but it's more fun and faster to write in the letters in the lower right corner and the text recognition is uncanny. The top screen is used for the clues and menus. The control pad is used to scroll the grid or change from down to across. The Y button zooms in and out. Erase, Hints and Menu are available on both the screens, and buttons R and L will browse the clues.
There are over 100 New York Times crossword puzzles with advancing levels of difficulty. I liked best the Weekly puzzle -- starting on Monday and going through Sunday. Did you know that Monday is the easiest puzzle and Sunday, the hardest? I didn't. And then there is Multiplayer Mode, of course you need two DSs, but it is better that having someone hanging over your shoulder with suggestions – that is should you choose to play the Co-Op Mode. For those who would like to play competitively, but don't have two copies of the Times for the same day, there is competitive or the Vs Mode where players compete on the same puzzle, getting a point for each correct letter and losing one for incorrect ones. It's a perfect gift for my brother-in-law – but it would be unkind not to include the Nintendo DS.

Fun Factor: The puzzles are great and the execution makes it novel and fun.
Reviewed by: Editor - 05/07
The New York Times Crosswords
&copy Majesco/Budcat
Platform(s): GBDS
To Order: GBDS http://www.amazon.com/ $29.99