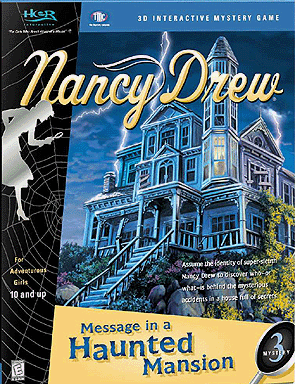 Nancy Drew: Message in a Haunted Mansion
Ages Teen

Who is trying to stop the renovation of a San Francisco Victorian into a Bed an Breakfast and why? What is behind the 'accidents'? Where are the mysterious moans and groans coming from? So here are the who, what and where for you to start solving the mystery.
If you have played the previous Nancy Drew games you are in for a pleasant treat with this one. There are vast improvements in this game. Easy navigation. The entire action takes place within a Victorian making it unnecessary to hail a taxi to go from one place to another. There are plenty of rooms to explore including the occasional secret passageway. The mansion is beautifully decorated with period Chinese furniture and artifacts. The Chinese theme is central to the game with history, artwork, mythology and clues written in hanzi (brush characters). The clues are not as obtuse as in the previous game and clocks and time are once more important to solving the mystery. Again, it's necessary to talk to the characters for answers to what is going on. The game uses the technique of the previous game of letting you step back, giving you a Second Chance if you are in a disaster situation that ends the game. There is plenty of replay value here - the game changes each time you play. Congratulations to Her Interactive for a very successful game.
Ed. note: Her Interactive is having a contest and the prize is a free copy of this game. You have to go onto their site and solve a puzzle to be entered into the drawing. Her Interactive says that your e-mail address is only being collected for the contest and will be discarded after winners are chosen.

Editor Review 12/00

Nancy Drew: Message in a Haunted Mansion
&copy Her Interactive 2000 $29.99
Windows 95/98
To Order: http://www.amazon.com