---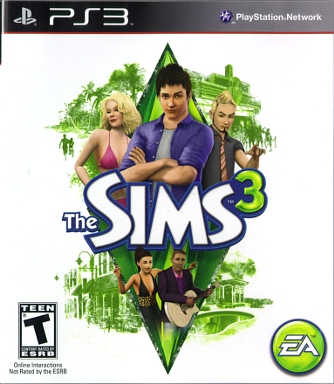 The Sims 3
Rating: T - Teen

I have followed the Sims from when they were The Simsin 2000, through the march of game machines from GBA, Game Cube, PS2, PSP, Xbox, Wii, PS3 and on the PC through at least 15 expansion packs. There was always one Sims game humming.
Except for the PC, everything else was "a taste of Sims". Finally, PS3, Xbox and DS players can experience what PC players have had for years, the total responsibility for little humans. Players will be attending to their every need from their most personal, like going to the bathroom, eating and sleeping to immediate goals - making out, shopping and to future aspirations and lifetime wishes - doctor, lawyer, Indian chief, rich man, poor man, beggar man, thief. It wouldn't be Sims if you also couldn't take on a negative personality and do wicked things. You can make children, bring them up, get old and eventually pass on.
One can play Sims for hours and hours sitting on a desk chair in front of your computer, getting up stiff and sore so this game release means that you can now do it from the comfort of your living room sofa. If comfort isn't your big issue, PC players will probably stay with the PC, however new players will get some nice enhancements. Active items and people are highlighted with a column of green light and are lined in green making it easy to know what is active. Tutorials don't come at you all at once, but are interspersed as the game progresses. A good touch. Most delicious is Karma, the instantaneous power to effect things for good or bad - instant beauty, artistic talent, total satisfaction, or simply getting lucky. On the negative side, you can bring down fire, or send in ghosts to haunt your victim. Of course nothing is free and you have to earn Karma power by amassing challenge points, which are awarded when the player reaches her goal. All this will keep you very busy.
In starting, you can choose to go with the pre-arranged family and house and quickly get into the action or you can amuse yourself with endless options for customization. If this still isn't enough, Sims online includes a store, the Exchange, where you can download other players' creations or upload yours. Comes with the game.
Because of the endless options in the game, it takes a while to get the hang of the menus and controls. Would I have preferred it to be simpler? Of course not - then it wouldn't be The Sims.

Fun Factor: Sims in comfort
Female Factor: Player's choice
Player Friendly: Excellent manual - good tutorials
Reviewed by: Editor - Nov/10
The Sims 3
&copy Eletronic Arts
Platform(s): PS3
To Order: PS3 http://www.amazon.com/ $49.99