---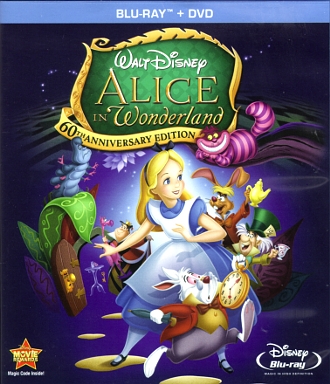 Alice in Wonderland - Walt Disney
Rating: NR - Not Rated

I was read Alice in Wonderland and Through The Looking Glass from a hard-bound book with the original drawings by John Tenniel. The drawings were pretty strange - not like the usual children's books. It was only after spending time in the Bonus section of this DVD, that it made sense. Tenniel was the political cartoonist for Punch magazine - no fluffy illustrations for him. The Bonus section goes on to spend lots of time describing how deliberately Disney worked to make the movie as close to Lewis Carroll's story as possible.
It is the authenticity that makes the movie such a joy as you join this curious and adventurous girl falling down a rabbit hole to an amazing adventure. There she drinks potions and eats cookies that alter her size - most certainly her perspective. It's filled with playful nonsense and twisted logic spouting from flowers and animals. The Mad Hatter's tea party is all there, voiced perfectly by Ed Wynn as the Hatter and Jerry Colona as the March Hare - great actors from the '50's. And the scene with the white/red roses and final card fling actually gains vibrancy over the book.
This is a two disk set a Blu-ray and a DVD, There are interactive games for the kids - "Painting the Roses Red" almost makes you feel part of movie/book. This is a 60th Anniversary Edition - 60 years and still great.
Reviewed by: Editor - Feb/11
Alice in Wonderland - Walt Disney
&copy Disney
Platform(s): DVD
To Order: DVD http://www.amazon.com/ $19.99