---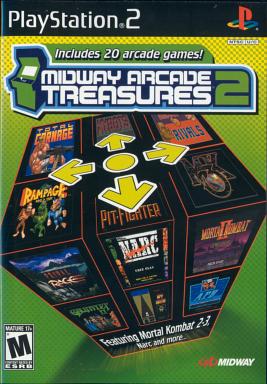 Midway Arcade Treasures 2
Ages: Mature

I must admit that I was mostly an observer of arcade games. But even I can recall the names of NARC, Defender, Gauntlet and especially Mortal Kombat. This is number 2 of the series Midway Arcade Treasures and the titles reflect the serilization of the popular games. There are 20 arcade games on the disk many which will be known to those who are more familiar with the genre.
Mortal Kombat II and 3
Gauntlet II
Spy Hunter II
Xybots
NARC
APB
Cyberball2072
Timber
Total Carnage
Pit Fighter
Wizard of Wor
Xenophobe
Primal Rage
Arch Rivals
Rampage World Tour
Kozmik Krooz'r
Championship Sprint
Hard Drivin'
Wacko
A lot of these game were played in the early '90's. While Mortal Kombat was un-rated in the arcade, now that it comes into your home, it bestows the M rating on the series.
Not remembering the arcade scene well, I was surprised to find that most of the games would accommodate two players - and a few, three or four. One of the problems with bringing these games to the consoles is that the controls are different for each game. For avid players this will be a small inconvenience for having the games in their hands. Will it have been be more exciting to be playing to make your quarters last or more stimulating to be sitting back knowing that you have all the time in the world?
Reviewed by: Editor - 11/04
Midway Arcade Treasures 2
&copy Midway $19.99
PS2
To Order: PS2 http://www.amazon.com