---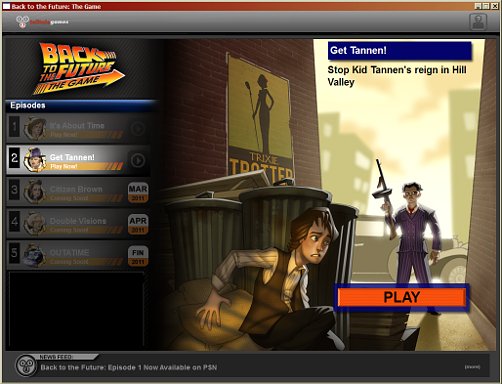 Back to the Future: Get Tannen
Rating: NR - Not Rated

The second episode picks up in 1931 where, if you learn anything, it's that each fix to past events will only serve to make more fixes necessary. The original patch to have Marty's father meet Marty's mother results in a gangster mob headed by Kid Tannen, a crime boss who threatens Marty's father to keep him from testifying. Remember, this is the depths of the Prohibition period when organized crime became established. Now we begin to get the further complications of two instances of the characters in the same time space. The puzzles are plot-centric and relatively simple though not necessarily obvious.
TellTale Games does an excellent job in transforming the original characters into their younger and older selves both in their images and their personalities. Biff always can be counted on to be the obnoxious troublemaker that mucks up the best laid plans, Marty's father is always a wimp, and Miss Strickland exhibits the busybody tendencies that intensify in her old age.
A word about the game help. TTG offers the most all-round help for the casual gamer that I have seen. The beginning Options menu offers a Hint Level and a Goals Pop-up plus Subtitles and Pop-up Text. On screen there are huge buttons for Story so Far, Hints, Inventory and Goals in case you didn't choose them in the Options menu. And if that isn't enough, there is a walkthrough with screen images. It's a little bit like having training wheels around, but only when you want them.

Fun Factor: Enough new riffs on an old movie to make it interesting.
Female Factor: Female characters follow the plot constraints.
Player Friendly: With this kind of help no reason to get stuck.
Reviewed by: Editor - Feb/11
Back to the Future: Get Tannen
&copy TellTale Games
Platform(s): W7 Vista XP
To Order: Win http://telltalegames.com $24.95
Game Site: http://telltalegames.com/