---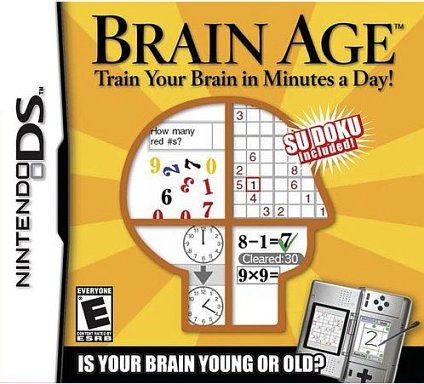 Brain Age
Ages: Everyone

Dr. Ryuta Kawashima's studies with brain imaging and the retention of learning facilities in children and older adults has led him to be an advocate for brain training. To that end, he has developed a program which includes daily exercises, pep talks and charts to keep track of your progress. There are lots of activities: counting syllables, solving math and calculation problems, doing a head count of people going in and out of a house, remembering words, reading out loud. The "game" uses the Nintendo DS built-in microphone so that speech recognition can be used for reading text and the touch pad for writing tasks.
The baseline for brain functions is considered to be that of a 20 year old. You do the tests, mark your score and by doing them daily and charting your progress, it is claimed that your memory will improve - even your social skills. Some may chafe at the tests, feeling that flash cards and reading tests have been left in grade school. For those there are many "casual games" such as Sudoku and Scrabble clones that will provide the mental stimulation but sans the charts and perhaps the associated encouragement. The advantage that Brain Ageprovides is a regimen, a doctor, and tasks that are not so much fun as good for you - a little akin to eating broccoli. With wireless, you can challenge your friends. There is even a quick play mode to encourage others to try. Don't be discouraged if your score is a brain age of 80. Test taking alone will improve your score, so go back to doing rocket science.

Fun Factor: I always found some enjoyment in doing intelligence tests. Lots of replay value.
Reviewed by: Editor - 08/07
Brain Age
Author: Everyone
&copy Nintendo
Platform(s): GBDS
To Order: GBDS http://www.amazon.com/ $19.99