---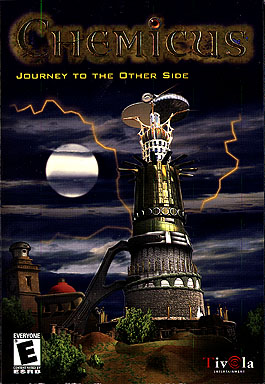 Chemicus
Ages: Everyone – 14+

How can a company that has given us the most magical game ever – Alphabet – distribute Chemicus? It's supposed to be an adventure in which you solve riddles by gaining knowledge in chemistry – it fails on both counts. The back of the box advertises stunning landscapes, alluring interiors in a game and where facts are your resources and "all the answers you need are at your fingertips". Well, they are right about the graphics and wrong about the answer part.
Science is not arbitrary but the game is. Acquiring an understanding of chemistry one needs to progress from experiment to observation and then to a conclusion - so that there is an understanding of what has occured. The game has a walkthrough on the disk and a chemistry manual on the second disk. The instructions are to pick up objects and perform certain tasks. Items like drawers have chemical symbols that seem to have been haphazardly placed – Ti, H, S, He. Various transporter modules are labeled Cl, Pb and H. Yes, they are chemical symbols but the arbitrariness of it makes me long for the simplicity of the periodic table and reagent bottles.
The first section deals with oxidation and reduction. The beginning player shouldn't have to start with the chemistry manual which only briefly deals with rusting and even less about reduction. By the end game, you are dealing with molar mass and atomic weights to construct formulas. There are probably only six kid whizzes who would enjoy this game.
Experiments can be fun. If you want to enthuse a young person – go get a book like J.F. Hauser, "Super Science Concoctions: for Mysterious Mixtures for Fabulous Fun" -or Tony Robinson's "The Everything Kids' Science Experiments Book" – and do some experiments together.
Editor Review 12/02
Chemicus
&copy Tivola $17.99]
Win 95/98/Me Mac OS 8.1 or higher
To Order: http://www.amazon.com