---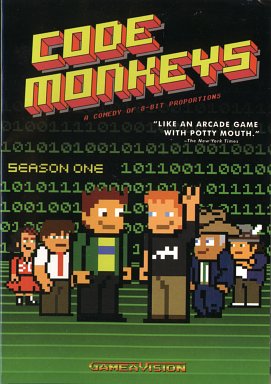 Code Monkeys
Ages: L:U Lighten Up

Code Monkeys - a demeaning term for programmers who can only do the lower functions of coding as opposed to designers or programmers - is the title of an animated series created by Adam de la Pena for TV channel G4. It is still being aired on Wednesday evenings here. But Season One is now available on a two DVD set - 13 episodes - almost five hours of fun and sarcastic humor about games and the gaming business.
Anyone who has played video games - and that's about everyone - will appreciate the inside jokes and rude humor. Wonderful pokes at the companies - the company's name is GameAvision, a snide reference to Activision and ColecoVision. The ideas they come up for games are a roster of all those dreadful games we have played. The graphics are done in 8-bit so that just looking at these 2-D pixilated characters brings back memories. There is a health bar and score on the top of the screen and the episodes end with "Game Over". They have also irreverently brought back the gaming greats - Nolan Bushnell (Atari founder), Gary Gygax (Dungeons and Dragons), John Romero (Doom) who plays a drug lord and Steve Wozniak who sells the company to a Texas millionaire because he it tired of games and wants to work on computers.
Dave and his buddy Jerry are the game programmers who are the instigators of the actions which becomes a battle of wills between them and the new owner Mr. Larrity a money grubbing despot. But Dave is the one who is always pushing the boundaries towards trouble. In one episode, he is given a ticket to see ET so he can create a game from the movie. He sells the ticket and makes up a totally awful, offensive game that resembles Space Invaders.
The other players are Dean, Mr. Larrity's muscle bound son, clueless about games, who is set up as the supervisor. Benny, a seven year old Korean kid, who has been fed cigarettes and speed by Mr. Larrity, is the game tester. Black Steve, the accountant with an anger problem, Mary the under appreciated game programmer and Clare the receptionist, too receptive and available. The mix makes for an on-going series of jokes and ridiculous situations.
I recommend taking in Series One in small doses. Five hours at a stretch will truly result in seizures and brain damage.

Fun Factor: Clever and amusing take on the game industry
Female Factor: One good - one not so good
Reviewed by: Editor - 08/08
Code Monkeys
&copy Shout Factory
Platform(s): DVD
To Order: DVD http://www.amazon.com/ $19.99