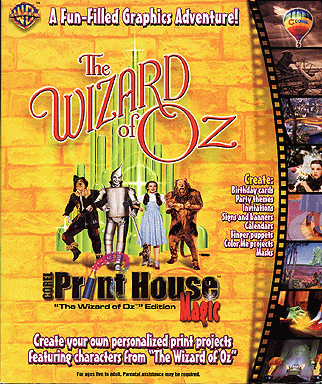 Corel Print House Magic - The Wizard of Oz Edition
Ages 5 to Adult

It was definitely more fun playing with this software than reviewing it. While playing with it, I was able to create lots of amusing projects with wonderful wizard graphics: greeting cards, letterhead, calendars, placemats. But in reviewing it I have to analyze how or why it worked - or didn't.
My 11-year-old son, who is usually much better at using interactive software than I am, gave up after playing with it for a little while. Take seriously the admonition on the front of the box that "parental assistance may be required" I too had trouble getting anywhere just by clicking buttons, and had to use the tutorials before I was able to complete a project. The tutorials and on-line help were pretty good, although they did not always mesh with software. For example, the description of the zoom tool did not describe the way the zoom tool actually works in this version. The manual, although too boring to actually read, had a nice table of contents and index to let you see what could be done with the software.
Over half the manual is a pictorial index to the clipart, photos and images on the CDROMS; since this is a 4-CD set, this is a much more convenient way to see what's available than popping the CDs in and out. The software does provide a keyword search for images, but a search for "lion" did not find "Cowardly Lion" photos, so it is limited in its usefulness.
The main problem with using the software was the mouse control interface. Too often unexpected things happened depending upon the on the number of clicks. It would have been nice if they supplied a freehand clip and a partial erase. Also, the transitions between Corel Print House and into Corel Photo House could have been smoother.
After using the tutorials it was not hard to pull in and manipulate images from the CDROMs in greeting cards, letterheads and calendars of my own design. The photo images available from the Wizard of Oz movie are gorgeous: lots of stills, cutouts and collages to play with. I was less excited by the clip art.
With a scanner or a digital camera it could have been even more fun - I could have placed myself with Judy Garland on the yellow brick road! The programs do a lot and once you get familiar with them the projects turn out surprisingly well. If you are a Wizard of Oz fan - the artwork is enough to make you need it on your shelf.
Reviewed by Susan D. 8/99
Corel Print House Magic - The Wizard of Oz Edition
&copy 1998 Corel Corporation $39.95
Windows 95/98/NT 4.0