---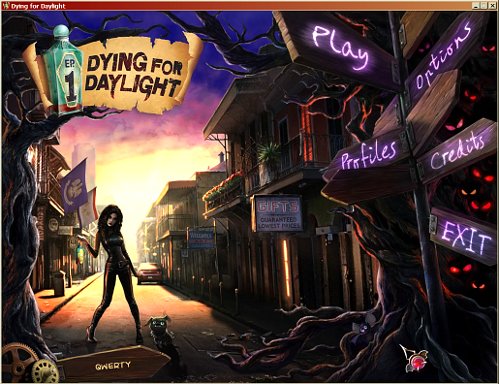 Dying for Daylight
Rating: NR - Not Rated

A great casual game in episodic format with a terrific storyline that holds together well. The premise is that a female vampire has been ordered to investigate a particular troupe of vampires. Apparently they have a potion which allows vampires to walk in the sunlight, which she is to retrieve.
Both the graphics and the voice work are excellent as well as the storyline. It progresses through several backdrops and characters, with a wonderful assortment of puzzles. Most puzzles are easy enough although a few may have you looking for walk throughs (the pig one is just plain annoying). It is worth noting that you need to make sure you locate all of the cogs - there are six - or retracing your steps is a pain. The hints are plentiful, so you will rarely find yourself stuck. The toughest part is figuring out the places you need to visit to get the pieces for your next steps, and there is quite is a bit of back and forth. The mechanics are extremely easy to navigate and done well; as you do have to travel through several backdrops repeatedly so it truly isn't difficult to do.
The game has a terrific sense of humor (dressing the rat had me laughing out loud) to the point I was sorry to have finished it. With four separate sections, it was easy to drop it and return later. Even so it was not a lengthy game and never boring or tedious. Except perhaps the pig part.
This is the first of four episodes by Charlaine Harris, creator of the Snookie Stackhouse series. The first episode can be downloaded for an hour of free play at i-play.com.

Fun Factor: Completely engaging
Female Factor: Dahlia - sexy and witty
Player Friendly: No problems with download.
Reviewed by: Adison Garzon - Feb/11
Dying for Daylight
&copy i-Play
Platform(s): W7 Vista XP
To Order: Win http://www.amazon.com/ $19.99
Game Site: http://i-play.com/