---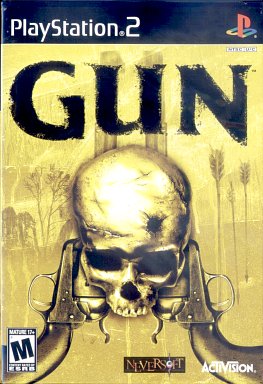 Gun
Ages: Mature Blood, Gore, Intense Violence

Activision has finally come out with a shooter that has a roaring story or perhaps , a roaring story that's a shooter -- and a shooter that takes place on foot and on horseback. If you like Western's you have even more enjoyment in store for you.
The controls between being on horseback and being on foot are practically the same which allows for smooth game play. The choices of weapons are minimal -- but that keeps you mind on the story -- which is to revenge the death of the main character's father. There are plenty of bad guys and the women don't come out too well in the game. For women paying the game, it might be a stretch to get into Colton White's boots but the Western venue is unusual, and there is a story, so it is tempting. Action moves all over the place -- mines to explore, trains to rob, a jail to escape from and card games to win plus a steamboat and all the wild west scenery between. Do not overlook the side quests -- they fill out the adventure. You can take time out to become a ranch hand. bounty hunter, ride shotgun on the pony express, become sheriff for a spell and mine for gold and get rich. Rich is the sense of the game. Lots of things to do. But be warned -- there are more than a couple of yucky happenings that give this game an "M" rating.
Bradygames strategy guide is a big plus -- check it out under our reviews of Strategy Guides.
Reviewed by: Editor - 02/06
Gun
&copy Activision
PlayStation
To Order: PS2 http://www.amazon.com/ $18.95