---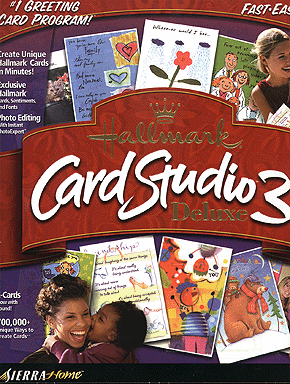 Hallmark Card Studio 3 Deluxe

It does more that just make cards but it's worth it just for the card making. The leading card maker makes a leading card-making program - easy directions and a wide choice of cards - 3,5000 in all. This is a program for card-senders. Who sends cards? - mothers, aunts, grandmothers. It's great for those who can't easily get to the stores and for those who forgot there is the e-mail card. Paraphrasing the Hallmark saying, "When you care enough - to sit down at the computer - to send the very best". You now can whip one out.
Reviewed by Grandma Sadie
I was looking forward to using the Hallmark card program and upon opening it, immediately looked for a suitable birthday card. I was able to find one with a front design which I liked. I turned to the right hand page and was able to delete the words I didn't want. However, I had trouble repositioning the bottom words. Later I learned I could delete the bottom words and rewrite them and place them where I wanted.
I could not place messages on the left side of some of the cards. It would be nice to be able to do this on all of the cards. It's the spot for chatty personal communication. Having accomplished my first goal, I returned to the Welcome area. I found it easy to read and pleasant to see. The explanation for printing the envelope was clear.
I am sure I will find more and more helpful hints as I go along. The designs and wordings are of the quality that I would expect from Hallmark cards.
Editor Review 11/01
Hallmark Card Studio 3 Deluxe
&copy Sierra Home $49.99
Windows 95/98/NT/Me/2000
To Order: http://www.amazon.com