---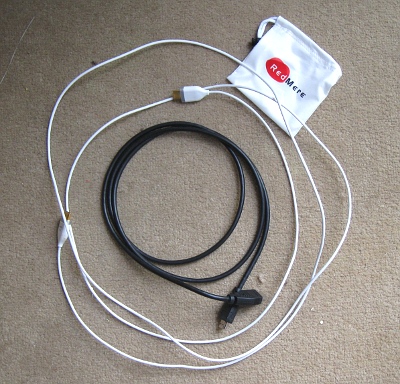 Ultra-thin HDMI Cable

The increases in picture quality (resolution, refresh rate) in the HDTV, video, camera and computer arena have moved the technical performance requirements of the cables you use to connect the picture source to the display screen higher and higher. To make longer and longer cables that work correctly to the HDMI (High-Definition Multimedia Interface) specifications normally means that you have to use thicker and thicker wire, resulting in stiff bulky cables.
The RedMere company in Ireland has developed a different approach to this requirement - they have developed tiny 'active' circuits which can fit inside of the HDMI plugs to drive the signals over longer, thinner wires.
I recently recieved a sample cable from them to try out - and thought for a moment that it was defective, until I realized that the 'active' circuits in the cable required that the cable be plugged into my DVD player with the active end there - and then I saw the label on the cable itself - one end had "HDMI TV" printed on it, the other end just had "HDMI"! Once plugged in correctly, the sample cable worked flawlessly. Of course, I did not subject this cable to engineering tests, but the white cable, at almost twice the length of the old black cable and about half the thickness (see the accompanying picture), lets me lay the cable around tighter corners and put it through smaller holes.
These cables should be of special interest to camcorder owners, because the standard cables are so stiff that connecting a comcorder to a TV becomes awkward and subject to the cable popping out of the sockets when you move a bit. The flexibility and length of this new type works very well in that environment. RedMere does not sell the cables directly, but their technology is being used by various manufacturers; for instance Radio Shack currently has an AUVIO 10 foot ultra-thin cable using this technology.
Reviewed by: Lou Katz - Dec/10
Ultra-thin HDMI Cable
&copy RedMere
Platform(s): No computer needed. Self-contained Device
Product Site: http://www.redmere.com/