---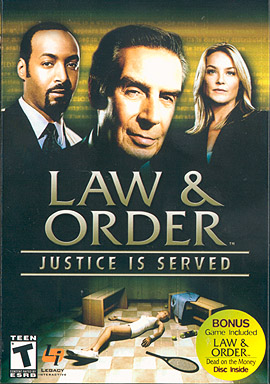 Law and Order -- Justice is Served
Ages: Teen

Justice is Served is the third in the Law and Order series. I liked the previous Law and Order -- Dead on the Money but this one is both more complex and more fun to play. The cursor control and hot spots have been improved. There are no tricky hidden clues and the time limit for bringing your suspect to trial has been abandoned. There are more puzzles -- most solvable by nearby clues.
The game follows the two part format of the popular TV series -- first investigation- and then prosecution. The intro uses the show's music and graphics and puts you in the mood to play along with Lennie Briscoe. Voice talent is from the show and the character animation is well done -- they look like themselves. Lip synch not great and the constant wisecracks from Lennie are pretty terrible -- but they are on the show too. So sit back and enjoy solving the mysterious killing of a top-ranked tennis player. Many suspects; boyfriends, over bearing mother, jealous players and even Patrick McEnroe as the coach.
For those who haven't played before, the trick is to pump each "suspect" until they mention another person. This lead then appears on your map so you can question them too and get another lead etc. You have the service of the medical examiner, psychiatrist, crime lab, research and records department. You can also make use of searches and surveillance. The procedure involves putting the item or picture into the appropriate folder and you are called when the reports are ready. When you have amassed enough information for an arrest warrant, the second phase of the game begins.
Now you play along with Serena Southerlyn, Asst. D.A to obtain a conviction. You will have to make your case in court against a experienced aggressive lawyer for the defense. This is where I have the most difficulty. The legal procedures and lingo always makes me want to pick up a dictionary. But I found out that it is important to challenge the defense at every appropriate time. What is appropriate? I just put in "Object" as soon as there was a pause. Now, while you don't die in you investigation of the crime -- you can lose the case which is a crushing blow after all that work. So save often and early.
Oh, and the game comes with Dead on the Money so you can pig out on Law and Order.
Reviewed by: Editor - 11/04
Law and Order -- Justice is Served
&copy Legacy $29.99
W98 Me 2000
To Order: Win http://www.amazon.com