---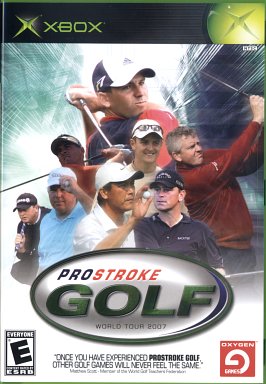 ProStroke Golf -- World Tour 2007
Ages: Everyone

Oxygen did a lot of work on this game to give you the feeling of being on the green. There are crowds to cheer, commentary by Ian Baker-Finch, Alan Green and Sam Torrance and eight pros -- Sergio Garcia, Justin Rose, Ben Curtis, Thomas Bjorn, Colin Montgomerie, Ian Woosnam, Mark O'Meara and Zhang Lian-Wei to play along. The first two are the only ones I recognize, but I suspect that those who pick-up this game will find the others familiar.
You get a choice of eight body types for your player, and you can customize their outfits – hats, shirt, pants, gloves but there is not one woman in the line up, even though they have ladies' white tees – the starting points for ladies competitions. There's an option to design your own course if Brabazon and Lake Nona are not to your liking. You can jump right in to play a quick round of golf or enter the training mode, but the aim of this game is for you to start as a novice and level up to the semi-pro ranks.
Playing the shot requires moving the right thumbstick to the right and then quickly back to the left. On the downswing you can lean forward or back by moving the right thumbstick stick up or down. I just played the Wii and my suggestion for Oxygen is to bring ProStroke Golf out on the Wii for a more natural control.
Reviewed by: Editor - 11/06
ProStroke Golf -- World Tour 2007
&copy Microsoft
Platform(s): X-BOX
To Order: XBox http://www.amazon.com/ $29.99