---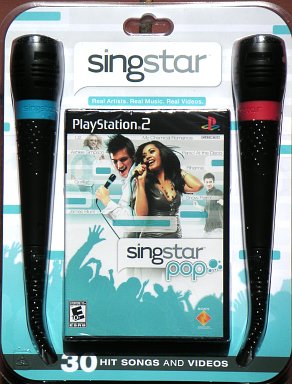 Singstar Pop
Ages: Everyone 10+

First off – this is not karaoke. This is a sing-along. You sing with your favorite pop star. To help you – there are bands running along on the screen, similar to the music stave, showing you pitch and duration of the notes. On the easy settings, remember, this is a game, the bands are fat, allowing you some play in your performance. For hard you have skinny bars and less leeway. The words to the song are in two lines – one is the actual verse being sung, the other anticipates the next verse so you can be ready. On the screen is the pop star of your choice, not only singing but in an MTV-like video. You are rated in how close you match the professional performer. It doesn't help to be tone deaf.
This set comes with two mikes – one banded in pink the other, blue. A USB converter is included and you plug it into your USB connector on your PS2. The two microphones plug into the appropriately colored sockets -- easy. Turn it on and away you go. With two mikes you can do duets, you can even record up to 8 players by passing the mic. There are many hints given in the manual, like listening the song first, going over it a couple of times and not holding the microphone too close to your mouth. I found that picking a group to sing with, like 3 Doors Down or the Cartel, instead of a single performer gave me more freedom and was less intimidating than singing along with Britney or Cindi. If you wish you can also play around with adding sound effects to your voice after recording it.
The unexpected win in Singstar Pop is to connect it to an EyeToy – not included in the package. That way you can see yourself singing the song. You can choose to have special effects and colors as a background or not. There are 30 "chart –topping songs and music videos" for you to sing along to – the list appears on the package. I expect there will be more disks and mores songs but this package is certainly the starter.

Fun Factor: It's a party game.
Reviewed by: Editor - 05/07
Singstar Pop
&copy Sony Computer Entertainment
Platform(s): PS2
To Order: PS2 http://www.amazon.com/ $49.99