---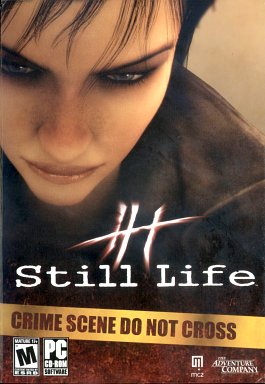 Still Life
Ages: Mature

It starts out with Victoria McPherson -- a top FBI agent investigating a murder scene -- a nude female, bathtub, blood. This is victim number five. Victoria gets to use some of the equipment associated with the CSI crew -- black light, fingerprinting kit and she returns to the station for further work with the coroner. The station is dismal and dark and looks like someone can pop out at you anytime. The game goes on for awhile in the CSI mode and the mystery only develops when Vicky goes home to her Dad's place. In the warm cozy house, smelling of Christmas cookies is where the horror begins.
Through a second character, 75 years ago and in Prague, we learn of a similar serial murderer, and by playing the game between the two characters -- we try to solve both mysteries. The switching between eras and characters is a clever business and keeps the suspense going by suspending play in one part or another.
The puzzles are all different, and range from baking cookies to avoiding deadly lasers. A tip for the laser puzzle, the only timed puzzle in the game -- switching to keyboard mode makes it easier.
I played this one when I was laid up with a broken hip and it was good getting into a different place, even for awhile. We don't do very many Mature rated games and so I was keen to see what gave it the M rating. I was thinking maybe it would be OK for teens -- good female hero, interesting dual story lines, murders occurring off screen. By the time I finished -- I guess it deserved the M rating. The victims are all prostitutes and they are portrayed in mostly a positive manner; dead bodies are often shown nude and there is a trip into an underground S&M world. But aside from all that -- it would have made a good Teen adventure.
Reviewed by: Editor - 06/05
Still Life
&copy The Adventure Company PC $29.49 Xbox $19.99
W98 Me XP 2000 XBOX
To Order: Win http://www.amazon.com/
To Order: XBox http://www.amazon.com/